The Loose Play Atari presents Duration:London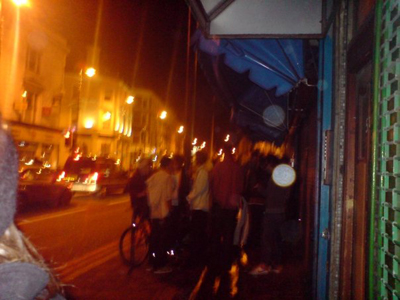 We envision Duration:London as a series of events that gather film, video and sound pieces which explore the ambiguities & absurdities of our contemporary existence. Whether it is approached from a fine-arts, documentary, experimental, formal, abstract or interdisciplinary angle, we believe that there is value in fostering a space which provides a forum for sharing which is neither a gallery, a juried film festival or an institution.
Duration:London will be a modified continuation of Evenings of Delight, formally operated by Shoppinghour with the help of Kinkyguard between January and June 2009. We welcome you to a friendly, yet critical & creative community for artist, filmmakers and thinkers working in moving image.
The medium of "shorts" is often acknowledged as mini-feature films; small snippits of narrative story telling, using tv commercial/film industry visual vocabulary & editing rhythm, illustrated with didactic sound tracks. Much of the heavily promoted short film groups and festivals follow this trend of accessible aesthetic structures. Although we also concentrate on shorts, our focus is more on challenging pieces which stimulate the audience outside of the habitual boundaries of communication. As organizers/curators, we strive to assemble line-ups where the pieces can reinforce each other, establishing a momentary "collaboration" for further meaning & significance.
We carefully consider the quality, and most importantly the intention(s) behind each piece.
What we are trying to provide is a carefully planned total-experience, with the hopes that it may stimulate & enchant our audience for every minute of the evening. The question may be raised as to the motivation behind our events when many of the works we screen can already be viewed individually online. Although we recognize this accessibility resulting from abundant digital video sharing and artist websites, we believe there is a definite difference!
It is our goal to provoke discussion, open a dialogue and respect the significance of short works that perhaps fall in the grey zone between the "art world" and the "film industry".